How Marketing Your Business Has Changed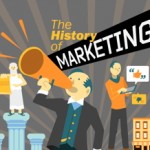 Marketing - It is one of the things that we know we need to do, yet sometimes (perhaps even more often than not?) we have no idea how to do it, what to do, when to do it, where to do it, and even why we do it.  Hubspot created this infographic which outlines the history of marketing, and how it has changed over the years.
At least it helps put the process of marketing your business in perspective as far a what has been done, and what consumers are reacting to, over the years, and where marketing is today.
How are you marketing your business at the moment?  And is what you are doing NOW in step with what consumers are expecting?
History of Marketing Infographic