At NNEP, we love everything we do. However, a certain elevated degree of excitement always surrounds our industry and embroidery trade shows and conferences, where you get to interact and connect in person – with other apparel decorators, embroidery business owners and with industry suppliers.

Industry and embroidery trade shows and conferences provide the best value for your education, networking, and product sourcing needs. NNEP's Embroidery Mart trade shows and Embroidery & Digitizing Conference offer unparalleled opportunities for embroidery professionals and apparel decorators and suppliers to come together, to build relationships, to brainstorm and to network. 
For apparel and promotional products decorators, it is a great chance to meet vendors of interest – all together in one location, all in one weekend.
For industry suppliers, it is often the best way to meet so many qualified buyers in such a short time. Encourage your favorite suppliers to exhibit at the NNEP Embroidery Marts!
Embroidery trade shows like Embroidery Mart-ATLANTA and Embroidery Mart-NASHVILLE offer a rich learning experience. What happens in the classrooms and in the exhibit hall is important – you made the commitment to be there and are not as distracted as you can be at your business. The conversations in the hallways, at the lunch tables and in the exhibit hall contribute greatly to the information exchange. Embroidery trade shows provide a rich, targeted, and focused learning experience that can significantly impact the growth of your business.
---

NNEP is excited to present two Embroidery & Digitizing Conferences this year. In order to thrive in today's ever-changing world, embroidery and apparel decoration professionals need to be forward-looking. The NNEP's Embroidery & Digitizing Conference will help you master the skills to ensure that your business will have the agility and ability to thrive, not just survive. By attending these classes, you will have the opportunity to learn from leaders in the industry.
WHO SHOULD ATTEND?
Embroidery and apparel decoration business owners will benefit. The program provides immediately applicable industry-specific knowledge to help you improve your profits, production workflow and digitizing abilities.
PROGRAM BENEFITS
By attending this program, you will:
Be able to create a pricing structure so that you no longer have to guess to set your prices, and you will know what your target profit levels are and how to reach them.
Be able to hoop challenging products such as shoes, leashes, karate belts, purses, leather, boots and pant legs with confidence.
Be able to take care of your embroidery equipment so that it continues to create top-quality embroidery and run as a well-cared for machine.
Be able to create embroidery designs that sew efficiently in a production setting with the minimum number of stitches, color changes and thread breaks without compromising the quality of the resulting embroidery.
Be able to create small lettering that looks crisp and sews without issues.
Be able to know what stabilizers to use on the many different types of fabrics to control puckering, ripples and bad registration.
Be able to create maximum impact with applique designs that dramatically reduce stitch counts while increasing the overall impact of the design.
We want to help you make the right choice for your professional development, so please contact us at 800-866-7396 or embdigconf@nnep.com for personal assistance.
You can register online now for the Conference in Cleveland, June 14 & 16, 2018. Visit http://embroiderymart.com/nnep-embroidery-digitizing-conference/ for more information and to register.
---
Participate in NNEP's Professional Development Program at either Embroidery Mart embroidery trade shows. Click for details here —http://www.nnep.com/professional-development-program/
Embroidery Mart-NASHVILLE registration will open soon! Click the GREEN button to be notified when you can register:

---
If you are interested in exhibiting AT Embroidery Mart (selling your products/services TO embroidery and apparel decoration business owners, the attendees) click the blue button to get the current contract, available booth locations and pricing:

Embroidery Mart-NASHVILLE is Aug. 17-18, 2018 at Music City Center, Nashville, Tennessee. Exhibitor Registration is open now. Attendee registration will open late Spring, 2018.  Click HERE for the flyer!
Contact NNEP at Mart@nnep.com or give us a call at 800-866-7396 if you have questions about the NNEP trade shows.
NEW – Embroidery Industry Calendar established!
We are creating an industry-wide event calendar, as there are so many opportunities to get more information to help you start, build and grow your business. We hear from apparel decorators every week who are looking for the closest or the next upcoming industry event. If you offer any kind of industry training or events, such as trade shows, conferences, webinars and live training events, please submit the information about your event using the blue button below. NNEP determines which events are appropriate to be included on this industry calendar.
Nothing from June 18, 2018 to July 18, 2018.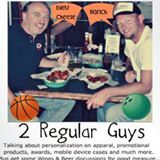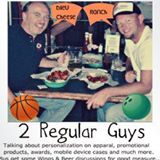 Click the 2 Regular Guys image to hear a podcast of Jennifer Cox being interviewed about Embroidery Mart.
Here is a quote from an attendee of Jennifer's class at Embroidery Mart in Nashville:
Dear Jennifer:
I just want to drop you a line thanking you for all of your hard work and efforts going into the NNEP show in Nashville last weekend. I enjoyed the classes they were spot on for what is needed to succeed in today's competitive market.
When I was at your Saturday class, you changed my way of thinking.   Although I have a multihead shop with a 6 head and single head, I am always thinking that I am too small to go after the big fish.  When you mentioned how you got started with the GM account, it clicked.
Now I am thinking why not.  What an epiphany– it was one of those light bulb moments.  Thank you for helping me break through the wall of small time thinking…  I really enjoyed your class.

Thanks again,
Susan Frost CQA, CQE
Owner, BBG LLC