How Fun are These? NNEP Mouse Pad giveaway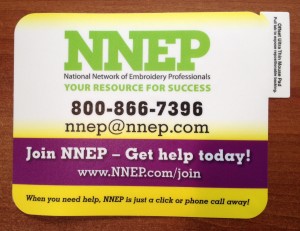 We have the nicest UPS guy - his name is Jamie and he brings us fun stuff all the time. Do you like your UPS guy?  I hope so - they bring toys! What's not to like?!?!
TODAY he dropped of these new NNEP mouse pads - they are so fun and happy looking!  They make me smile 🙂
They are nifty because they stick in place where you want them... yet you can reposition them any time - like a post-it note!
You can get a NNEP mouse pad, too!  All you have to do is stop by the NNEP booth at Embroidery Mart and we will give you one.
Pretty easy, right?
Register for Embroidery Mart-COLUMBUS - click this button:
Registration for Embroidery Mart-NASHVILLE will open in April.
See you at the NNEP's Mart!