Creature Comfort Toys Joins NNEP Preferred Vendor Program
Everyone loves a snuggle buddy. And kids go bonkers for them when they are personalized, making them a truly significant and instant "best friend" to kids of all ages. NNEP welcomes Creature Comfort Toys and their line of embroiderable plush products to the NNEP Preferred Vendor Program.
Embroider Buddy's™ story began when inventor Donna Kotzer Jacobs joined Parkdale Creature Comforts, the plush toy business her father Morris started in 1944 in Toronto. Servicing the gift, souvenir and specialty markets, Donna soon developed a successful line of stuffed bears and "Whatzupwiththat!™ Bearwear" for the custom-imprint sector. But she quickly realized embroiderers needed something more. They wanted a stuffed toy with a large area to embroider, and stuffing that could be removed and re-inserted quickly and easily. There was nothing like it on the market.
NNEP members receive a 10% orders over $200 and qualify for special pricing for larger and special orders.
Look how cute they are - the addition of the bows certainly makes a big impact!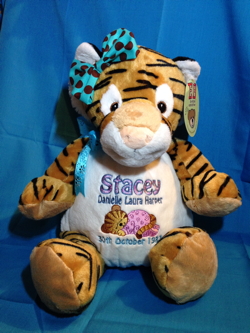 NNEP Members - log in to the Member's Only area to download the current Section 2 for your Embroidery Business Success Manual, which features all the NNEP Preferred Vendors' special offers and their contact information and access details.
NOT a member of NNEP? You are missing out on savings that increase your profits as well as other member benefits. Discover why you should join NNEP today for less than 61 cents a day at NNEP.com/join: