Embroidery Mart Returns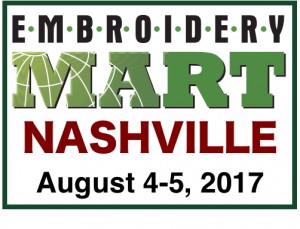 Embroidery Mart is back - and it is just around the corner!
Do you know what the single greatest thing you can do for your business is?
Nope, it is not talking to your customers.
It is not getting another employee.
It is not mastering social media...
It is attending a real-life industry event filled with real-life industry suppliers and fellow apparel decoration business owners.
Dollar for dollar and minute for minute, there is NOTHING you can do that will have a higher ROI than surrounding yourself with people that have gone through the same challenges you are currently facing.
Owning your business is a lonely path and unless you are a 2nd generation professional, I doubt many of your friends or even your family understands what it is like to own a business, run the machines, make deadlines or deal with customer fallout.
But you know who does? Fellow business owners.
We are such big believers in the value of bringing apparel decoration professionals together that this is the 16th year we've hosted Embroidery Mart in Nashville. This is one weekend to focus ON your business, instead of going like gangbusters IN your business.
From Friday Aug. 4 at 9AM - Saturday, August 5 at 3PM, industry experts & suppliers from all over the country come to beautiful Nashville, TN to spend 2 days helping you with your business. They come to Embroidery Mart with the intention of showing you their best sellers, their best apparel decoration ideas, the latest trends and best techniques.
Why are they willing to do this? Because they know that when your business grows, it benefits them as well!
So all these companies have committed their resources to come meet with you. Take a look at the companies we were able to lure to Embroidery Mart:
5B's Inc.
Ace Transfer
Action Illustrated
AnaJet LLC.
ASI
Atlantic Coast Cotton
Augusta Sportswear
Balboa Threadworks
Brown Manufacturing
Cliff Hix/First Edition
Custom Patches
Digital Art Solutions
Epilog Laser Corp
Fil-Tec Bobbin Central
Gunold USA
Heat Transfer Warehouse
Hirsch Solutions
Hoop Tech Products
Johnson Plastics
Kavio!
Madeira
Mind's Eye Graphics
NNEP
Otto International
Pennant Sportswear
Ready Set Sew
Ricoma International
Floriani Products
SanMar
Sewingmachine.Com
ShopWorks
Stahls
Stahls' Transfer Express
Stitch It International
SWF
TEXMAC Direct / HAPPY Embroidery Machines
The Rhinestone World
Trotec Laser Inc.
USCutter
ZSK Embroidery Central
In an ordinary life, it would like weeks to become familiar with the products of all these companies. At Embroidery Mart, you get up to speed on all the newest products, techniques and design ideas in just 2 days! And even better, we are heading into the busiest time of year. You will be READY when your customers ask, "What can you show me that's new?"
So how much does a ticket to Embroidery Mart cost?
Only $20!
Your registration not only includes both days at the trade show, you can attend any of the classes on Friday and Saturday as well - no additional registration required!
Click here to go to Embroidery Mart
This trade show is all about YOU and helping you take your business where you want it to go.
Here's what attendees had to say about last year's Embroidery Mart:
"That show was the best thing we could have done. It was a great show. We felt that we needed to check out new vendors. Your show was everything we needed." Doug Phillips, D and R Specialties
"I just had to tell you how much I enjoyed the show. I brought my husband along as kind of a weekend getaway for his birthday. I suggested that he take the class on machine maintenance and he came out asking all kinds of questions. We both learned a lot!" Phyllis Young, Young Uniforms & Scrubs
"You always take such good care of us and you are always there to make sure everything is handled. You run one of the best shows in the market and thanks so much for your kindness." Doug Ritch, Texmac Direct
Who would benefit the most from attending Embroidery Mart?
An embroidery or apparel decoration business owner who realizes that to stay ahead of the competition, you need to know more and have access to more resources to out-create, outsell and outperform the competition.
Come learn from, network with and enjoy the presence of fantastic suppliers and peers at Embroidery Mart!
You and your business deserve this!
Get your ticket to Embroidery Mart now!
P.S. Everyone registering to attend Embroidery Mart must be at least 14. Youngsters and future apparel decorators are not permitted into the exhibit hall or classrooms.
Jennifer Cox, President
NNEP | Embroidery Mart host