See You in Nashville at Embroidery Mart!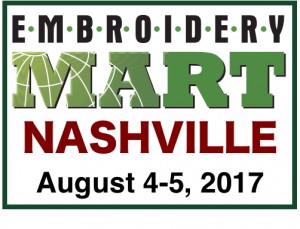 Attend Embroidery Mart-NASHVILLE to see the latest equipment, apparel, software, supplies, stock designs and rhinestones. Meet industry experts and discover the latest trends in apparel decoration. See the newest techniques and add them to your business.
At Embroidery Mart-NASHVILLE, you get to CONNECT with other embroidery professionals and apparel decorators!
For many embroiderers and apparel decorators, it is often the case that you work in "isolation," in more ways than one.1 Many folks do not really "get" what you do, even among your own family and closest friends. Even if you have a storefront, at times it is just you and the equipment. Isolation is one of the tallest hurdles for you to overcome as a business owner. If you are isolated, where do you get new ideas? Who can you ask when you have questions? How can you come up with new ideas, fresh products, and real solutions?
Online and pre-registration is now closed - but NO WORRIES!
Come to Hall A2 of the Music City Center in Nashville and register at the trade show. Registration is $20/person and includes both days in the exhibit hall and all the classes on Friday and Saturday morning. You do not register for specific classes - you just need your 2017 Nashville name badge and to get there before the class is filled to capacity.
Get all the key details such as the hours of registration, the exhibits, class schedule, and parking here:
Here are the key details to know:
You CAN register at the door.
You do NOT need to be a member of NNEP to attend (NNEP members attend for free as a benefit of the membership).
You must be at least 14 to register and attend. Young people are not permitted to enter the exhibits or classrooms. Proof of age is required.
Registration includes both days of the trade show and all of the classes.
You do not need to register for specific classes, but they do fill up and then the doors are closed for that session.
If you have an invitation from an exhibitor, bring the first page with you and we will honor it at the event.
At Embroidery Mart-NASHVILLE, you are immersed in embroiderers and apparel decorators! For the majority of attendees, this is the first or only time ALL YEAR, when everything you want to talk about makes sense to someone else! And it is not just one someone else, it is hundreds of them! Discover an entire community that speaks your native language – finally. NNEP events are often described as the industry's "family reunion – the one you WANT to be at…"1
Join the conversation, become part of the community – load up with new ideas, new friendships and new ways to think about your business. You will be very glad you did!
Discover how to GROW Your Business at NNEP's Embroidery Mart-NASHVILLE in the free classes such as:
Digitizing Essentials
Top 10 Trends in Decorated Apparel
Machine Maintenance – all brands!
Monogramming with Embroidery, Applique and Heat PressVinyl!
5 Secrets to Printing Performance Wear
Attend Embroidery Mart & Get Energized!
Ready to make money (or more money) with apparel decoration equipment – embroidery, screen printing, digital garment printing, laser engraving, rhinestone setting, heat presses, sublimation? Embroidery Mart is the trade show for you!