Conferences are Dead, Long Live Conferences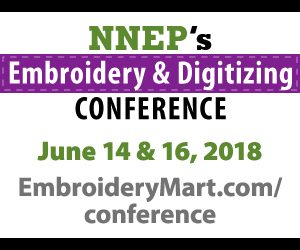 So many things have endured major disruptions in the past 10 years, TV, radio, print, social media, education, conferences and even Twinkies! But like Twinkies, all of these things continue on, just in new ways.
Attending NNEP's Embroidery & Digitizing Conference takes time, money and effort, no question. Attending this conference for apparel decoration professionals is an efficient way to build your embroidery, digitizing and business skills so that when you put yourself in front of qualified prospects, you earn their business.
Maximize your experience. At NNEP's Embroidery & Digitizing Conference, not only will you have two full days to become proficient at skills such as small lettering, applique, machine maintenance, pricing and marketing, you will also have a full day to experience THE NBM Show, where you will meet the industry's best suppliers. You will have the chance to talk with someone from every company, get current catalogs and prices and see the newest equipment.
Registration for the Trade Show is included with your conference registration, at no additional charge. We even do it for you.
Attending NNEP's Embroidery & Digitizing Conference brings you together with the right people and allows you to evolve as an apparel decoration professional as efficiently as possible. In just 2 days, you will learn from and meet with more industry experts, suppliers and fellow apparel decoration professionals than you can using any other tactic.
The training, skills, equipment, supplies, product lines and ideas you gain at NNEP's Embroidery & Digitizing Conference and The NBM Show could be just what you need to set your business above your competition!
See the one-page flyer about the NNEP's Embroidery & Digitizing Conference at EmbroideryMart.com/conference to see the entire class selection.
If you are afraid of taking the time away from your business to improve your digitizing, let me share a secret with you...
Your customers want to know that they are doing business with the best shop in their area. By sharing the fact that you are attending this professional industry conference, you are demonstrating that you are progressive and up to date in your field.
Don't hide your commitment to your business and your customers under a cabbage leaf and assume that you cannot miss a few days of work -- turn it into an additional benefit of doing business with you!
Not sure if going is right for you? Click here to see the full schedule of classes.
NNEP's Embroidery & Digitizing Conference
June 14 & 16, 2018
Huntington Convention Center of Cleveland
Cleveland, Ohio
BONUS: When you register for NNEP's Embroidery & Digitizing Conference, you will automatically also be registered to attend THE NBM SHOW, which will be on Friday and Saturday at the same location! You get 2 industry events on this one trip! There are no conference classes on Friday so that you can focus on the trade show exhibitors for that entire day.

I look forward to seeing you at NNEP's Embroidery & Digitizing Conference!