Top 7 Reasons to Attend an Embroidery Trade Show in 2016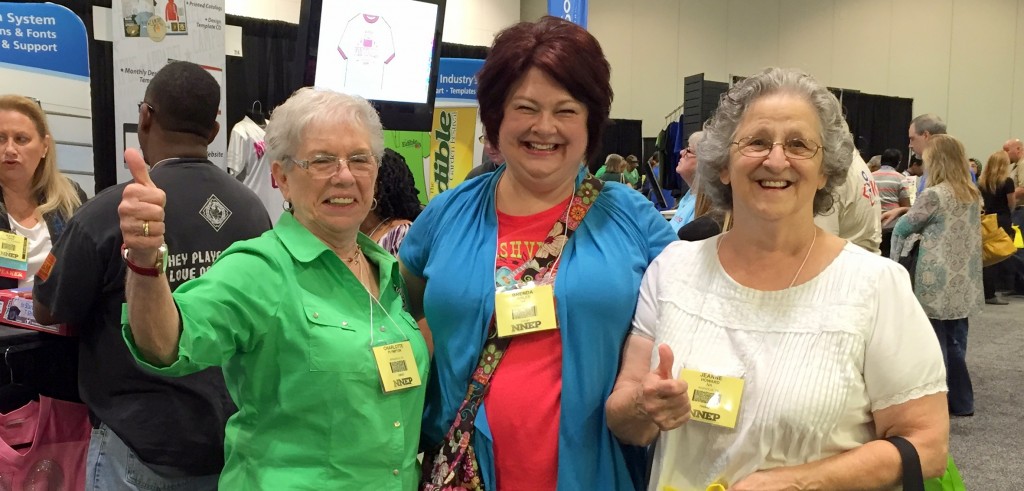 Here are the top 7 reasons why YOU should attend a trade show in the embroidery and apparel decoration industry in 2016:
1. Discover what's hot and trending in the industry.
The industry suppliers are often the first people to see trends as they develop, because they see what things are popping across many businesses. If one business sells 25 orders for a particular product or design, that is clearly a hot ticket item in that community. If 50 embroidery businesses start selling volumes of that product or design, now you are seeing a trend! At the shows, you have the unique opportunity to find the next best-sellers before your competition ever has them on their radar.
2. Sharpen your skills and discover the newest techniques.
No matter how many years you've been in this business, there is something new to learn. We live in an industry that is constantly evolving - the designs, the techniques, the supplies, the software and the products. At an embroidery trade show, you can see all the newest apparel decoration techniques in person. You can see it and touch it and learn how to do it. You decide which new techniques you want to offer to your customers.
3. Rise above your competition and win more business.
Many of the industry & embroidery trade shows now offer some sort of credit or acknowledgement of the time you spend on professional development. When a potential customer compares you with your local competition, it may be the fact that you seek out and participate in your industry's professional development program that wins you the business!
4. Build bridges with your suppliers.
You can put faces with names at the trade show. And more importantly, the suppliers can put your face with your company name. Simply meeting your suppliers in person changes the nature of your relationship with that company. Once you meet your regional sales manager in person, it is much easier to reach out to them to see if you can negotiate a better rate on a rather large order.
5. Refocus so that you reach your goals.
The truth about owning your business is that you probably would like to spend more time working on your business instead of IN it. This is your chance to refocus on what you want to do differently, better or more to take your business where you want it to go.
6. See it, touch it, feel it, compare it before you buy it!
This is your best opportunity to do side by side comparisons of equipment, software, products and services. Compare your options to make informed decisions based on what you discover.
7. Engage with your tribe.
At an embroidery trade show, you surround yourself with people that speak your language. The reality is that even your family and closest friends probably do not get that much of what you are talking about when you slide into conversations about your business. At the trade show, you are with thousands of other business owners and hundreds of industry suppliers and veterans who know exactly what you mean when you ask a question. They can help you resolve your questions and offer suggestions that could make all the difference in your business! In a building filled with people that share your profession, who knows what brilliant ideas might be born on the back of a napkin?
Many embroidery and apparel decoration business owners think that they cannot afford to take the time away from their businesses to attend an embroidery trade show. You may worry that your customers will go elsewhere, or that you will get too far behind or that you cannot afford to go.
The reality is that when you attend an embroidery industry trade show, you are putting yourself in a position to meet your customers' needs at a level that is higher than your competition! You will be offering the latest products and recommending the current trends. How can you afford to NOT attend?
NNEP hosts 2 embroidery trade shows, Embroidery Mart-COLUMBUS in February in Ohio and Embroidery Mart-NASHVILLE in August in Tennessee. To find out more about these trade shows, visit http://embroiderymart.com/.
I would love to meet you in Columbus or in Nashville at one of our Embroidery Mart embroidery trade shows. Be sure to stop by the NNEP booth to say hi!
Related Links:
Embroidery & Industry Trade Shows in 2016
NNEP Professional Development Program