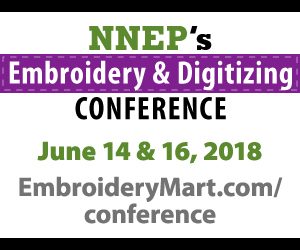 I love industry events – it is so interesting, exciting, fun to see what everyone is doing, to see what they are wearing and to hear how they and their businesses are doing! And we get to do that again next week, at NNEP's Embroidery & Digitizing Conference, in Cleveland, Ohio on June 14 & 16.
There is a gap in the schedule because we partnered this event with The NBM Show, which is going on at the same time at the same place, the Huntington Convention Center. Attend classes on Thursday, hit the trade show all day Friday, take some more classes on Saturday and then head back to your business, energized and loaded with new information, new ideas, new products, new ways to move your business forward.
Online pre-registration just closed for the Conference, but you can STILL REGISTER by phone through 5 PM EST on Tuesday, June 13th, 800-866-7396. After that, come to the Huntington Convention Center, Ballroom Level Rooms 25A & 25B and register at the Conference.
Get all the information including the schedule of classes here:
NNEP's Embroidery & Digitizing Conference
You can attend just 1 class, or take the full schedule – it is up to you. When you register to attend a class or classes at the NNEP's Conference, you also get to attend The NBM Show for no additional charge!
Talk about a win-win situation. :^)