Jennifer Cox Podcast with 2 Regular Guys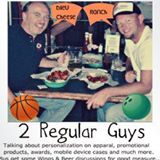 It was fun doing a podcast* about Embroidery Mart this morning with Terry Combs and Aaron Montgomery.  They host an show on the internet called "2 Regular Guys."  They chat about anything and everything in or connected to the decorated apparel industries.
*If you are new to the term "podcast," here is the wiki:
 a type of digital media consisting of an episodic series of audio radio, video, PDF, or ePub files subscribed to and downloaded through web syndication or streamed online to a computer or mobile device. The word is a neologism derived from "broadcast" and "pod" from the success of the iPod, as audio podcasts are often listened to on portable media players.
In people-speak, a podcast is a radio show that is broadcast live on the internet rather than through airwaves like traditional radio shows.  Because it IS digital, is is available AFTER the live event, as well as during the live event. Click on the image above to hear the interview.
They are thinking about doing their show live from Nashville during Embroidery Mart at the end of July.  I think that would be pretty fun! If you would like to be interviewed by Terry and Aaron (in Nashville or for a different episode), leave a comment below and I will let them know.