Embrace This Potential!
If you sell to schools, cheer, athletes, dance, churches or any other sorts of clubs, groups and organizations, there is an interesting new product to check out - Embrace Shoelace Designs! The owners (and inventors of the process to create these customized shoelaces) are Kalyn and Milford, and their business is located in Milwaukee, Wisconsin. They are members of NNEP, of course! They offer their customized shoelaces through their retail website, EmbroideryShoelaceDesigns.com.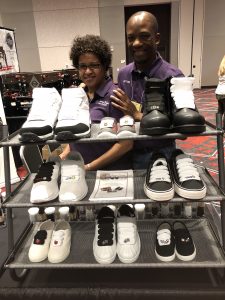 The white or black laces can be customized with a simple design, names, jersey numbers, birth years, graduation years, zodiac signs, monograms, logos, school mascots, nature - the possibilities are endless! They have even kicked things up a notch and now offer the option to incorporate rhinestones into the designs as well.
To sell this product to your customers, contact Kalyn and Milford at 414-236-5558 or email them at EmbraceShoelaceDesigns@outlook.com for wholesale information. Because the embroidery on the shoelaces is so small (many would call it micro embroidery) and the process is a bit more involved than it may seem, they do the digitizing and the embroidery in Wisconsin for you. Their work is excellent and the laces look great!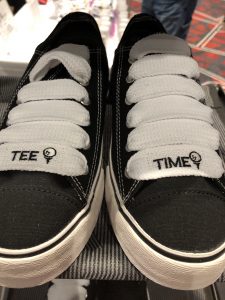 They sell the laces in different lengths and even provide a chart to help determine what length to get, based on the number of eyelets in the shoes. I bought and wore a pair of black laces with the blinged symbol for Gemini at the show in Indianapolis this year:
They have everything in place to help you keep your customers coming back for more. Even their packaging is well thought out.
The next time a customer says, "Show me something new..." you will have an unexpected, fun option for them! As they say at Embroidery Shoelace Designs, "Their footwear, their style!"