New Colorways from Sportco
I popped down to Columbus on Friday to attend the ISS show.  It is always fun to attend an event, rather than host one.  I can talk with the exhibitors, check out what is new, see what is selling well and learn about what trends they are seeing - all of which fascinates me.
The first "find" to pass along - a cover stitch hoodie sweatshirt from Sportco, item #SA113.  I liked the look of this sweatshirt.  It is sporty, with a bit of "pop" from the contrast stitching and lined hood.  It has a larger media pocket inside the pouch, designed to fit a smart phone (essential for the team markets).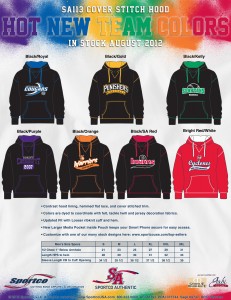 You can order them as blanks, let Sportco handle the decoration process for you or send the work to your large production partner when you get that larger order.
Sportco offers a selection of stock designs, including many fresh looks.  These sweatshirts are offered in S-3XL.
SA113 Cover Stitch Hoods will be in stock beginning August 2012, according to Sportco.  Check them out for yourself at SportcoUSA.com (looks like only the black and grey options appear in their online catalog at the moment).  Thanks Larry (Larry Irvine Sales) for the time on Friday.
Share your success story with this product below - leave me a comment!